Web Site Statistics
Web site statistics are generated by analysing web server log files. They provide a useful insight into the behaviour of visitors to your web site, especially when looking at trends.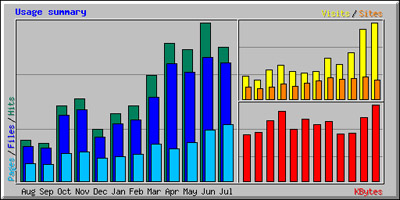 We use reports generated by Webalizer to find out how many visitors have been to your web site. We also use the monthly reports to look at daily and hourly usage patterns. For example the hourly usage shown below indicates peak activity during UK daylight hours and is typical for a UK business. However the activity in the early hours of the morning also indicates some international traffic is present.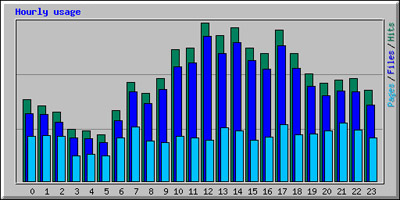 The reports provide additional information on hits, pages, visits, bandwidth and popular pages. Sites that refer visitors to your web site, such as search engines, can also be tracked. Occasionally this will also include any search terms that have been used. For further reports on server activity we can provide customised log file analysis.
However, web site statistics can only go so far in determining the true nature of activity on your web site. Some of the clicks may originate from search engines that routinely visit a web site to check for new content and this increases the recorded activity. Caches and network accelerators may also give bias to the figures displayed. As long as you read between the lines and use the reports with common sense you can get you a fair idea of what has been going on.
To track visitor behaviour in more depth we use Google Analytics.
http://www.quotes.uk.com/web-hosting/webstats.php
Last updated: Tuesday, 28th February 2012
All trademarks shown on our web site are acknowledged
and are the property of their respective owners. © Quotes 1996-2013